Last winter I was stuck in bed with the flu for more than a week. With a box of tissue, a pot of hot tea and plenty of chicken noodle soup, I fired up Netflix and I discovered the wonders of binge-watching. 
"Ohhh…. I've heard a lot about this Breaking Bad show. Think I'll take a quick look…"

[4 hours later…]
Before I knew it I had watched at least 4 episodes and I was hooked on the meth-making adventures of Walter White. 
Your next episode starts in 5…4…3…2…1
To be honest, I'm a bit of a night owl. No matter how hard I try, I'm more creative at night and my head is filled with ideas that keep me up all hours. 
Streaming services like Netflix, Amazon Prime and HULU load up an entire season of episodes with all the annoying commercial breaks. And behold my love of binge-watching was born.   
Now, with shelter in place orders and bans on public gatherings due to Coronavirus many of us are stuck in the house. Binge-watching and Chick Flicks are the perfect match. You can catch up on the shows you have missed and rewatch the shows you love.
TV Shows I've Been Binge-Watching…
Schitt's Creek
Daniel Levy and his father, comedy legend Eugene Levy have created a hilarious series called Schitt's Creek. Yes, like up that particular creek. The father and son duo star in a 'fish out of water' story about the mega-rich Rose family.
After their business manager cheats them out of all their money, The Roses are forced to move to the small town Johnny Rose bought for his son as a joke.  Now Johnny Rose, his wife Moira and his son David and daughter Alexis live in two small rooms at the town's motel.
Schitt's Creek is full of wacky and funny residents, including Chris Elliott as Mayor Rollin Schitt, Emily Hempshite is the reclusive hotel manager, Stevie Budd, and Twyla,  the waitress at the Tropical Cafe is played by another member of the Levy family, Eugene's daughter Sara. 
Catherine O'Hara is absolutely fabulous as Moira Rose,  the matriarch /soap opera star. 
Catch up with the Roses in Schitt's Creek on Netflix.
Timeless
If you haven't been watching NBC's Timeless, you have missed one of the best and most original shows on TV.
When Connor Mason, a British tech genius builds a pair of time-traveling pods, something goes wrong, Why? Because like all crazy science experiments, something always goes wrong.
Yes, there's been time traveling shows before. Quantum Leap, Time Machine, and others, but Timeless is different. In this case, Garcia Flynn (Goran Višnjić) has stolen one of the time machines and is going through history and changing important events.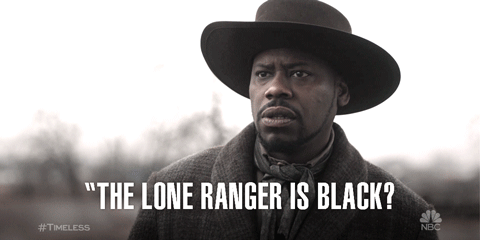 So, Lucy Preston (Abigail Spencer), an American history professor, Wyatt Logan,(Matt Lanter), a special forces military guy,  Rufus Carlin (Malcolm Barrett), the time machine pilot and one of the engineers who helped to design the time machine join forces to find Flynn. 
The Time Team travels back to well-known dates in history like the explosion of the Hindenburg, the assignation of Abraham Lincoln and the battle of the Alamo, but they also meet some of the interesting people that helped shape history, like Hedy Lamarr, the Lone Ranger, and Ian Flemming. Timeless is available on HULU
Hell on Wheels
A western about the building of the Transcontinental Railroad may not exactly fit into the chick flicks genre, but this AMC series has such an amazing and original story, I couldn't resist. 
Anson Mount plays Cullen Bohanon, a Confederate soldier who wants revenge for the death of his wife and child.  As the railroad construction winds its way west, across the American continent the town of Hell on Wheels follows along with a collection of saloons, brothels, and rag-tag characters. The series also stars, Common, Colm Meaney, and Robin McLeavy. 
Mad Men
The award-winning AMC series, Mad Men gives offers a glimpse into the world of 1960's Madison Avenue ad men like David Ogilvy and  Julian Koenig. It's interesting to see how Madison Avenue tries to sell products that were brand new but are not yet household names. For instance, the dilemma of how to market Clearasil. "That's for teenagers with bad skin. Who cares about them."
It's a Man's World
In the world of  Mad Men
, the men go the work and smoke unfiltered Lucky Strike cigarettes, drink Old Fashioneds, and a woman's place is at home.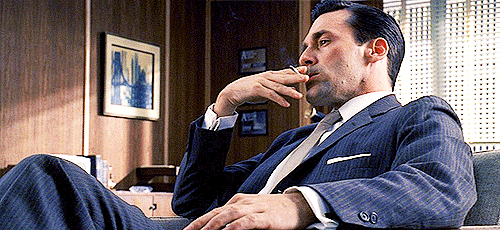 How times have changed! There are 7 addictive binge-worthy seasons of Mad Men. Watch episodes of Mad Men on iTunes or on Amazon Prime.
What's Up Next?
Good Girls
I have loved Christina Hendricks since watching her as Joan Holloway in Mad Men. She is quite different as Beth Boland in the comedy-drama, Good Girls. Christina stars with Rhetta and Mae Whitman as three suburban moms who turn to a life of crime to solve their money problems.
Watch Good Girls Seasons 1 and 2 on Netflix. More to come on that series before season 3 starts.

Star Trek: Discovery
I really hate to add yet another streaming service to my entertainment budget, but darn it, CBS All Access has a new Star Trek series. The all-new prequel goes back before the Enterprise and before Kirk.  
I thought I could live without watching it and save myself $9.99 a month. That was until season 2 when they brought in a young, bearded Spock (Ethan Peck) and Captain Christopher Pike, played by Anson Mount (Hell on Wheels). I'm talking about pre-accident Captain Pike! 
What are your favorite shows to binge-watch?
---
Affiliate Disclaimer: This post contains affiliate links. That means if you purchase these products or services via these links I will receive a small commission. Hopefully, it will be enough to pay for my monthly Amazon Prime bill and maybe pay for one of those cute vintage coats and dress ensembles like Mrs. Maisel. I only recommend or suggest movies, products and/or services that I use or think will you will like. This does not affect or influence my views and opinions on the articles I write about.